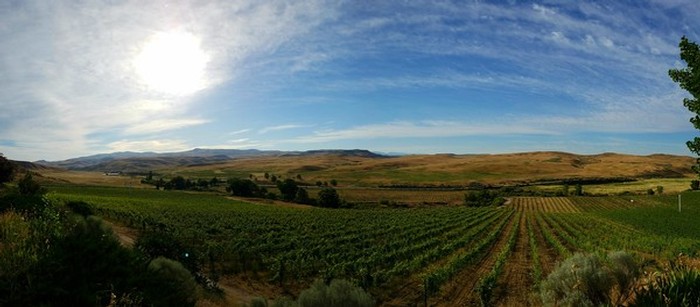 The first winery to offer wine tasting and guided tours in the Eagle Foothills we are committed to wine education by welcoming guests to the beautiful 3 Horse Ranch Vineyards Ranch House located in the heart of the Eagle Foothills. We offer the private Wine Experience daily and 3 different wine touring and tasting experiences by appointment only.
2021 Wine Experiences
Wine Experience Taste wine with our experts in a private setting. Set aside 90 minutes of your day to enjoy wine tasting of your own selection of our Eagle Foothills wines.
Group size 2-10. $35/person by appointment only
Signature Tour & Tasting This in-depth winery tour follows the path of the grape from the vineyard to the cellar to the finished wine. Conducted by winemaker Corey Sprott, subject to availability. Due to the nature of this tour, children ages 0 through 13 years of age are not permitted. 90 minutes
Group size 4-8 $75/person by appointment only
Exclusive Cellar Tasting Guests will taste a combination of winery exclusive wines accompanied by a selection of artisan cheese and charcuterie for a true wine pairing experience. This tour includes a barrel room visit for a taste of a library wine. Participants must be 21 or over, children are not permitted. 75 minutes
Group size 4-8 $50/person by appointment only
Sundowner Tasting with Artisan Cheese Join us for an after-hours tasting on our beautiful Sunnyside Terrace . We'll pour a variety of Library and winery-exclusive wines. Enjoy a selection of artisan cheese and charcuterie as you sip. Participants must be 21 or over, children are not permitted. 75 minutes
$60 per person | begins at 6:00pm. by appointment only
Please Inquire about touring reservations