Eagle Foothills AVA
---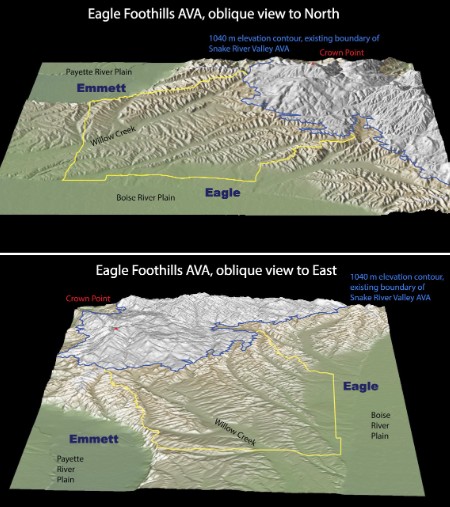 Unique elements of the Eagle Foothills AVA** include:
SOIL – Soils consist of sand from volcanic ash, silt, granite pebbles and clay that are well drained and rich in mineral grains because of the sedimentary bedrock from ancient Lake Idaho and the nearby granitic mountains.
CLIMATE – The hills form south facing slopes creating hot afternoons and evening shade. The cool temperatures, short growing season and low growing-degree days allow for successful ripening of early to mid-season grape varieties, with low acidity levels. The precipitation varies between 11-18 inches per year and averages 2,418 growing days annually.
WATER – Water is abundant, despite the desert terrain of the Eagle Foothills. The AVA is located near the Snake River aquifer—one of the most productive water sources in America. The proximity to water gives Idaho potential to have sustainable vineyards for generations to come.
The Eagle Foothills sits at the north bank of Ancient Lake Idaho, its elevation ranging from 2,490 to 3,412 ft.
** An AVA, or American Viticultural Area, is a federally designated wine grape-growing region distinguishable by distinct geographic features such as climate, soil, elevation and physical features.
---
I think it's safe to safe we need good wine now more than ever! With the holidays quickly approaching we are being forced to re-imagine how our holidays will look this year and it's a concept that will be different in every family. The one thing that remains the same is the desire for good wine and good food! Continue »

We've been having fun in the Excellent Tasting Room Cafe developing some chocolate treats for St. Valentine's Day Continue »