December 5, 2022 | Julianne Germain
'Tis The Season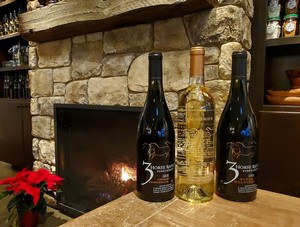 It's the most wonderful time of the year! It's the season for spending time with the ones you love. It's also a time for wine! We are excited to present to you the Holiday Equinox Wines: the 2019 Syrah/Mourvèdre, the 2019 Grenache/Syrah/Mourvèdre (GSM), and the 2018 Viognier.
Holiday Entertaining made Easy.
We are going to give some attention to our first ever GSM, which we are very excited about. A GSM is a common blend from the Rhone region in France. The Grenache provides the fruit flavor while the Syrah and Mourvèdre provide the peppery notes. It is a very versatile wine that will pair well with a variety of foods. During this time of the year, we are often invited to parties and gatherings or we are hosting our own. Nothing goes better with wine than a beautiful charcuterie board. The wines you just received pair beautifully with a variety of cured meats and cheeses. Here are just a few suggestions and remember, you don't need to be an expert and your board doesn't need to be perfect. Have fun and do what you want!
Viognier: pair with semi soft cheeses like havarti and fontina; pair with these cured meats: peppered salami, coppa or chorizo
GSM and Syrah/Mourvèdre: pair with aged gouda or aged hard cheddar; pair with cured meats: jamon serrano or Spanish dry chorizo
If you are hosting a dinner party, you may want to consider making the GSM the star of your menu. It pairs well with grilled red meats like a fatty ribeye, or a beautiful roast chicken. Use Mediterranean spices like sage, red pepper, and rosemary to season the meat of your choice. Dig deep in your recipe boxes and have fun coming up with a menu that everyone will enjoy.
If you have no intention doing any of the above, then please do the following:
-get into your coziest pajamas
-turn down the lights and turn up some music
- open a bottle of any of these wines, pour a glass
-sit back, relax, and have a wonderful holiday season!