April 13, 2018 | 3HR Wine Releases, Eagle Idaho, Gary Cunningham, Tasting Room | Martha Cunningham
A Case for Malbec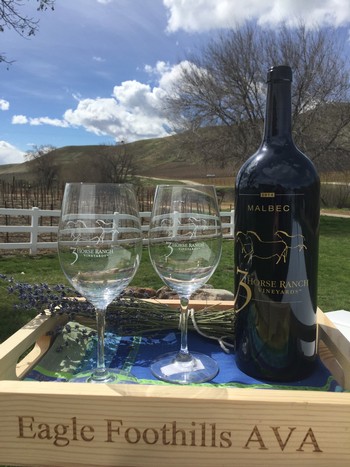 We introduced our first large format bottle of wine this spring...read "Magnum of Malbec".
Why a magnum? The magnum bottle holds the equivalent of two bottles of wine. Wine that has aged in a magnum is superior because the amount of air in a magnum is proportionately less than the amount of air in a standard wine bottle, the wine ages more slowly and more evenly then small format bottles. Also, it's just fun to bring to the party.
Have you got a decanter that you never use? Go ahead an pull it out and decant the wine, this makes for a pretty presentation at the table and is easy to serve from.
Malbec is a food friendly wine, which is easy to pair and match with foods. Malbec has softer tannins compared to some of its red counterparts, like Cabernet Sauvignon, which means Malbec goes well with lean cuts of meat like flank, sirloin and skirt steak. Even when you want to change it up a bit, this bold wine pairs perfectly with chicken and other meats like lamb and pork. What a treat for a host, a beautiful wine that is also beautiful on the table.